More than just a facade
Conservation of natural resources is more than just a green coat of paint. The products we offer are eco-friendly and are characterized by their sustainability.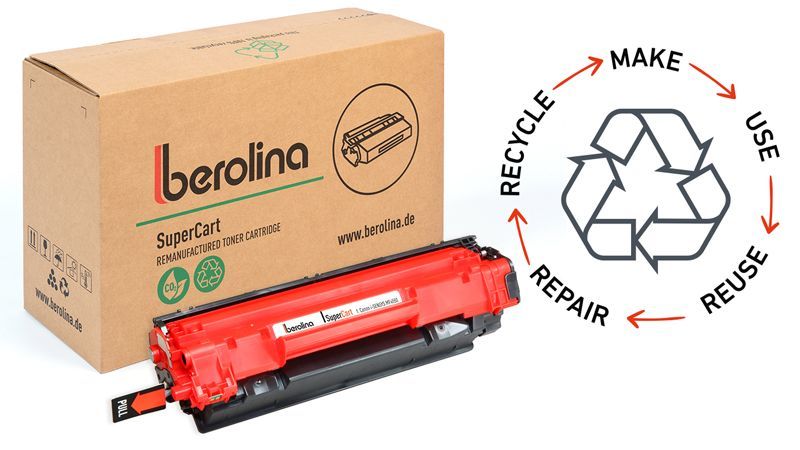 The pursuit of environmental compatibility and ecologically oriented action are and will remain the basis of our DNA, for on this basis we founded our company.
Our solutions for economical and environmentally conscious print and document management ensure consistent eco-efficiency:
The remanufactured berolina products and consistent solutions help reduce the waste of resources, reduce pollutants and reduce the environmental impact.
When choosing our partners, we confirm that our ecological criteria are met.
We support our customers in achieving their climate goals
Only if we all pull together can we save our planet and continue to offer our future generations a safe habitat.
In everything we do, we live responsibility, reliability and transparency. Our actions are shaped by the claim to put all efforts on the well-being of our customers and the preservation of our environment.
That is why we pay great attention to a climate-friendly footprint in the design of our solutions, in the selection of our device manufacturers, in the development and selection of materials for the production of our remanufactured toner cartridges, as well as in packaging and shipping.
We are convinced - it is time for green procurement!
berolina environmental brochure (German)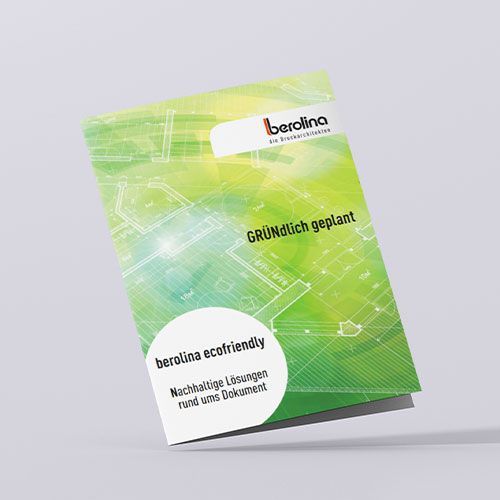 Role model in climate protection
We have been committed to environmental protection since our inception:
Right from the beginning, our products are remanufactured using a complex and resource-saving manufacturing process. In this way we actively avoid waste and create jobs.
In 1999 we received the environmental award from renowned B.A.U.M. e. V.
At the end of 2010, berolina was recognized by the DIHK, the Federal Environment Ministry and the Federal Ministry of Economics as an exemplary company in the field of climate protection and energy efficiency - as one of eleven companies nationwide and the first in Berlin.
In 2012 we joined the initiative "Economy for climate" by B.A.U.M. e.V., the Federal Environment Ministry and the Federal Environment Agency. In this initiative, companies from all sectors of the economy have come together across Germany in order to make a contribution to global climate protection as part of their business activities.
berolina was also one of the supporters of the competition "Office and Envoronment 2013", which is advertised by the Federal German Working Group for Environmentally Conscious Management (B.A.U.M. e.V.) and honors the most environmentally friendly offices.
We are also campaigning for environmental protection regionally: berolina is a member of the Brandenburg Environmental Partnership, an initiative of the Ministry for Environment, Health and Consumer Protection.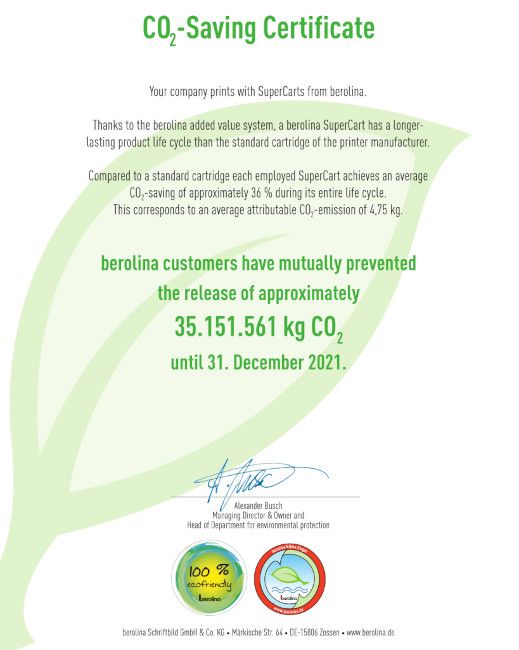 Avoid packaging waste - with the ecofriendly product box
Our latest project for more sustainability and environmental protection are our product boxes for the berolina SuperCart toner cartridges. Our commitment to greater eco-efficiency is reflected in the new packaging: the redesigned box and the sturdy inserts are made from 100% recyclable kraft cardboard. The cardboard inserts for protecting our products during transport can be recycled - all plastic-free! In this way, we avoid packaging waste to a large extent. Our goal is to make the packaging of berolina products 100% free of avoidable plastics. In this way we reduce the use of resources, reduce pollutants and further reduce environmental pollution. True to our motto: "berolina ecofriendly - sustainable solutions for everything concerning documents!"