Consumables
Of course you can purchase the standard products of the device manufacturers through us - but we can do a lot more.
berolina SuperCart toner cartridges for all common monochrome and color laser printers and multifunctional systems have up to double the page yield compared to the standard cartridges of the printer manufacturers and are consequently manufactured, packaged and dispatched in an environmentally friendly manner.
Extensive tests by our in-house development department ensure reliable first-class quality, because we are guided by the specifications of our certified quality management systems:
Quality management DIN EN ISO 9001: 2015
Environmental management DIN EN ISO 14001:2015
Our berolina SuperCart toner cartridges are not only characterized by high page yields and reliable, impressively sharp and brilliant text and color reproduction up to the last page, but are above all environmentally friendly and safe
Product-integrated environmental protection
As for all other business areas at berolina, the principle of responsible use of natural resources applies to the manufacture of berolina SuperCart toner cartridges. As early as the development phase, we check whether our reconditioned product could also affect the environment through production, use or disposal. The aim is to design the berolina SuperCarts in such a way that their service life is significantly longer than that of conventional toner cartridges and that they can be used again in order to conserve resources and keep the energy consumption per unit as low as possible. We call this product-integrated environmental protection in two ways:
With our recycling through reprocessing, we actively prevent the disposal of a standard cartridge once manufactured by the device manufacturer, since we use this as a basic raw material for our product.
With the use of a reconditioned berolina SuperCart with a high mileage, the repeated production of one or more new standard products of the device manufacturer is avoided and thus CO2.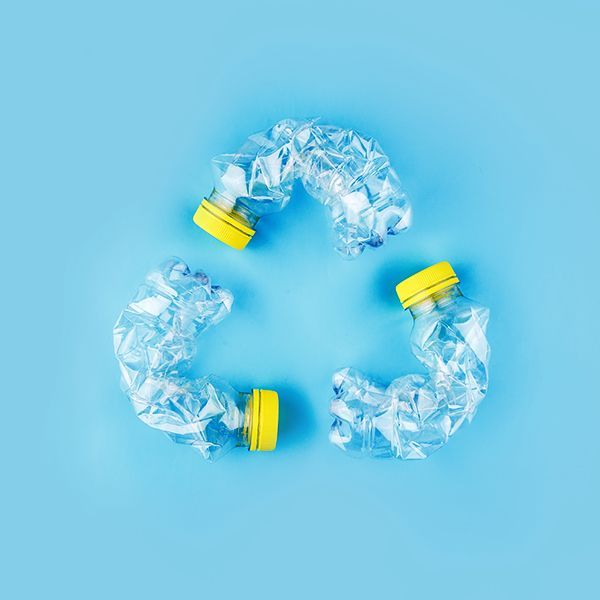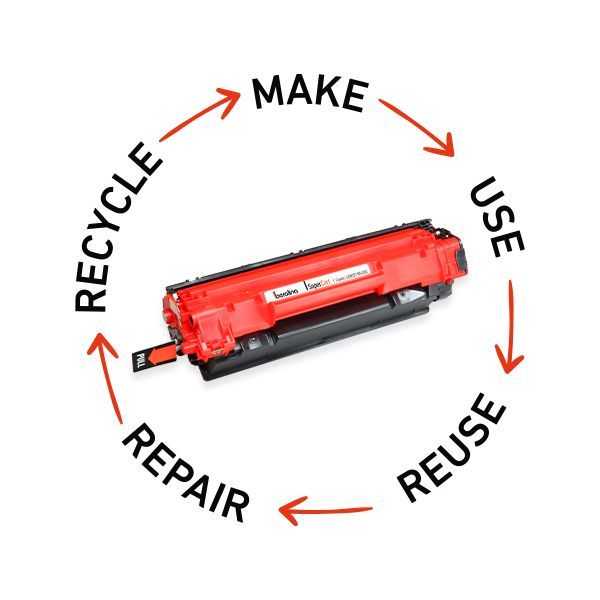 During its entire product life cycle, a berolina SuperCart toner cartridge achieves a CO
2
saving of approx. 36% compared to a standard cartridge. This corresponds to an average of directly attributable CO
2
emissions of 4.75 kg. berolina customers have together saved more than 35 million kg of CO
2
. With the use of berolina SuperCarts you are making an active contribution to climate protection.
We see ourselves as responsible for the safe and environmentally friendly use of natural resources. It is therefore a matter of course for us to orientate ourselves in all areas of the company to the specifications of our certified environmental management system in accordance with DIN EN ISO 14001:2015.
As a customer, you can rightly expect us to act as a role model here.
Harmless to health
We do everything we can to protect your health. Since we develop our products ourselves, we know exactly which materials we use and where they come from. All plastic materials and toner powder used by us are free of mutagenic substances and therefore not mutagenic. We have this confirmed by independent testing institutes, such as the LGA TÜV Rheinland, through various test procedures. berolina toner powders are also registered by our suppliers for REACH conformity.

We do not use cheap plastic and cheap toner, the origin of which is unknown and which have not been tested for harmful substances, because they can contain substances that are hazardous to health in high concentrations.

These malfunctions are not covered by warranty extensions or by standard support packs from the manufacturer! This is exactly why our berolina SuperCart solutions exist, with which you can protect your printer.
With our TEC SuperCart you get a real guarantee for your existing and new printing systems:
berolina SuperCart with increased performance compared to the standard cartridges of the manufacturers according to ISO / IEC 19752
Technical competence for devices from all common manufacturers
Free technical service, travel and working hours included
Repair of the printer on site, response times within 24 hours
Your devices will retain their value for up to 10 years through service, maintenance and care
Free collection and disposal for empty toner
exclusive spare and wear parts
Billing based on usage, no contractually stipulated print volume
Price security with a framework agreement over 36 months
With our berolina All-in SuperCart, we go one step further for you, because the scope of the TEC SuperCart warranty is supplemented by the following important warranty services with this solution:
Including spare and wear parts
Including replacement printer in the event of a total economic failure
Including a coherent logistics and disposal concept
---
How does it all work? Quite simply: You purchase our berolina TEC SuperCart or All-in SuperCart, tell us the serial number of the corresponding printer and you will receive the extended guarantee as long as you use our berolina SuperCart toner cartridges.
Shop HERE
You are looking for a specific product for which there is no berolina SuperCart? No Probllem. You can also obtain the standard products of the device manufacturers from us: